WASHINGTON - "It was completely devastating when I first found the pictures - I
could feel myself go into shock."
Holly Jacobs had no idea the racy photographs she'd shared with her boyfriend
would be used against her in a publicly humiliating way after they broke up.
Yet, in 2009 a friend called to say Jacobs' Facebook account had been
hacked and a nude photo was online.
And it got worse.
"My photos and a video of me were up on a revenge porn website," says Jacobs, who
legally changed her name in the aftermath.
With her name, phone number and email address posted online, Jacobs was bombarded
with unwanted attention.
Her photos and videos were even sent to her boss.
Revenge porn sites make no bones about why they exist.
"They bill themselves as places in which we can get back at our exes," says
Professor Danielle Keats Citron of the University of Maryland law school.
And in most cases the sites are legal, says Citron.
New Jersey is the only state to make it a felony to share a person's nude images
without that person's consent, although a bill cracking down on revenge porn in
California
is expected to be in the hands of the state's governor shortly, Bloomberg reports.
"If this happened in Maryland it would be prosecuted under a statute called
'Misuse
of Electronic Communication,'" which is a misdemeanor with a maximum prison
sentence of one year, says Maryland Attorney General Doug Gansler.
"It's basically cyberharassment, which is an attempt to harass, alarm or annoy
without any legitimate purpose to do so," Gansler says.
In Virginia, harassment by computer is also a misdemeanor.
See more on the California effort in the video below:
Florida, where Jacobs lives, recently rejected a call to toughen its laws to
protect against revenge porn.
After four years of trying to get the images taken down, Jacobs has sued her
ex-boyfriend, Ryan Seay, who reportedly has said someone
hacked into his computer and posted the photographs of Jacobs. Seay's attorney,
Charles Arline, denies the allegations
against his client.
"We're anticipating making these legal arguments very soon," he tells WTOP.
Jacobs also has created an advocacy website called End Revenge Porn.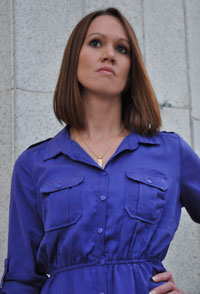 Holly Jacobs is an advocate to toughen laws against revenge porn. (Courtesy M.A. Williams)
The website refers to revenge porn as "a form of cyber-rape."
Jacobs warns women to protect their privacy by avoiding
sharing potentially compromising photos.
"I know you might love and trust your boyfriend, but you just never know what's
going to happen when you break up," says Jacobs.
Having personal images go viral is painful for any victim, Jacobs says.
"Imagine telling your dad that there are nude photos and a video of you on the
Internet," says Jacobs.
Citron is advocating for Congress to amend the federal cyberstalking law to cover
the
use of any computer service that produces or discloses a sexually graphic image of
a person without that person's permission.
WTOP's Randi Martin
contributed to this report.
Follow @WTOP and @WTOPtech on Twitter.
© 2013 WTOP. All Rights Reserved.
'Revenge porn' victim tells story, fights for change - WTOP
https://news.google.com/news/feeds?hl=en&gl=us&authuser=0&q=revenge+porn&um=1&ie=UTF-8&output=rss
revenge porn - Google News
Social tagging:
endrevengeporn
>
holly jacobs
>
misdemeanor
>
porn sites
>
Revenge Porn