Bill Cosby's former attorney seeks to remove judge in Janice Dickinson defamation suit
Posted by admin / December 31st, 2015 / No responses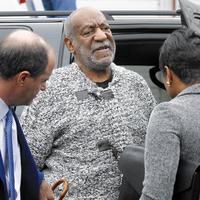 Bill Cosby's former attorney wants to bar a Los Angeles County Superior Court judge from hearing a case in which model Janice Dickinson says the lawyer defamed her when he defended Cosby against allegations of rape.
On Monday, attorney Martin Singer filed court papers seeking to remove Judge Debra Katz Weintraub from the civil suit, which accuses both Singer and Cosby of defamation.
The filing comes roughly a month after the judge ruled both Cosby and his former attorney could be deposed by Dickinson's lawyer, Lisa Bloom.
Singer did not state a reason in court papers as to why the judge should be removed. As a named defendant in the lawsuit, he can exercise the right to disqualify the jurist. If the petition is granted, the presiding judge will assign someone else to the case.
Cosby and Singer had been scheduled to answer questions about the case in November, but the Los Angeles-based 2nd District Court of Appeal ordered those depositions delayed after Cosby challenged the ruling.
Dickinson sued Cosby in May after Singer issued a statement calling her allegations "a lie." Cosby also said that he did not rape Dickinson while in Lake Tahoe in 1982, as she has alleged.
Last month, attorney Gloria Allred, who is Bloom's mother, deposed Cosby, 78, in a lawsuit filed by Judy Huth, who alleges she was sexually assaulted by the comedian in the 1970s at the Playboy Mansion when she was 15 years old.
After that deposition, Cosby replaced Singer with attorney Christopher Tayback.
In recent years, more than 50 women have accused Cosby of sexual assault or abuse.
http://www.latimes.com/topic/entertainment/television/bill-cosby-PECLB001147-topic.html