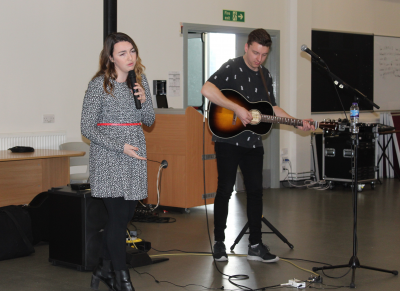 Singing duo LOZT visited Saint Paul's Catholic High School in Wythenshawe, Greater Manchester, this week, to deliver a mental health, online safety and cyber bullying themed message.
The duo LOZT (pronounced 'lost') comprises Lauren Scudder from Orange County, California, and Tom Ryder from London, UK. Both solo acts in their own right, the pair have come together to blend genres, voices and cultures. In the past few months LOZT have performed in notable venues around the UK and are in the midst of recording their debut album with double Grammy award winning producer Robbie Nelson. Their act is soulful Americana with strong harmonies and witty, heartfelt lyrics.
The students watched a unique and entertaining performance from the artists, which was followed by a mental health and online safety educational message.
The main message of the presentation empowers students to make the right choices in regards to online safety and cyber bullying, as well as to inform students not to discriminate and to treat everyone fairly. They also discussed mental health and well-being, empowering students with confidence to speak about their state of mind, tools to recognise when to reach out and who to talk to.
Mrs Laura Melling from Saint Paul's explained: "LOZT gave advice on how to stay safe online (never giving out personal information, never meeting strangers online, safety on social network sites, following rules of your parents on the internet etc) as well as discussing cyber bullying and where to go for help. They also discussed personal stories including a time when one of them was affected by cyber bullying, how they felt at the time, how they reacted, and the outcome of the situation.
They then discussed mental health, the causes of mental health problems such as stress at school or relationships, a time they have had their own mental health issues, who to turn to for help and the importance of speaking up."
Mr Alex Hren, Head Teacher at Saint Paul's said: "The performance was extremely engaging so that when the message was being delivered, the students wanted to be involved and were very attentive. It was a great way to deliver an important message."
More information about Saint Paul's Catholic High School can be found at www.st-paulshigh.net